The Cook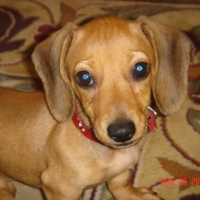 heavymetalmama
Clarendon Hills, IL
Taste-o-Meter
heavymetalmama's recipes haven't caught on yet
About Me
It's so cute that people want to be my friend, even before I filled this part in ! 'Cause I have such a cute picture of our dog, I guess!
Cant be for my recipes since I havent posted any yet - but will soon.
And as I read abo
ut the rest of you - you are SO INTO cooking !
I am, at times, but my attention span just continues to keep getting shorter...............
I've been cooking for about 30 years, and I'm still not really that good - although my mom and husband think I'm great.
My kids are middle-schoolers, and they would rather stay on their
computers than come to the dinner table to see what Mom cooked!
Like my tagline says, I'm a little lazy in the kitchen, but I've been
doing it long enough to be optimistic that it will turn out edible, at the very least. And I do get occasionally inspired. This site helps.
So "Cheers!" to all you fellow members - I'll be watchin' you!
Read more