The Cook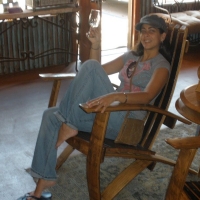 helicehinds
San Diego, CA
Taste-o-Meter
People generally enjoy helicehinds's recipes.
About Me
A Brazilian gal living in San Diego. Someone who loves to cook... but not all the time! Sometimes I just want to order a nice NY pizza from Bongiorno's, and chill with my boyfriend. But there are other times that I decide to prepa
re a nice dinner! Or even go crazy with my crock-pot! Sweet little invention right there! :)
When I make something, I never write it down... I know, I should! But I just don't... I let my craving take my creativity for a nice waltz, and when I see, It's ready. And nothing on the paper! hahaha Sorry, I'll try my best to write my creations down, and share with you all! And BTW... It's good to be here! :)
Read more
My Latest Recipes 3
Banana Bread from helicehinds in San Diego, CA.

It goes perfectly with some vanilla ice cream! Yum!!...

Coconut Shrimp from helicehinds in San Diego, CA.

This is one of my favorite appetizers ever! ...

Yummy Calzone from helicehinds in San Diego, CA.

Yummy quick bite!...