The Cook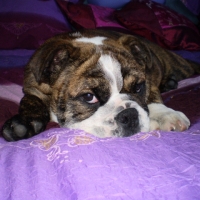 hooch
New Zealand, NZ
Taste-o-Meter
People are ADDICTED to hooch's recipes!
About Me
Hi, I'm a 33 year old mother of two, and I'm passionate about great tasting food, and really enjoy cooking, my vent in the food world would be that to many people make easy and enjoyable dishes look complicated, and un inviting t
o the everyday person.. I followed my love of cooking into the resturant world, and had Hope to complete my education as a pastry chef, but took a change in life when my children started to grow and I was offered a career in an area that allowed me to grow in other areas and boost my income, my family is my world, and food is my comfort.
♥♂♀♥♂♀♥♂♀♥♂♀♥♂♀♥♂♀♥♂♀♥♂♀♥♂♀♥♂♀♥♂♀♥♂♀♥♂♀♥♂♀♥♂♀♥♂♀♥♂♀♥♂♀♥♂♀♥♂
INtroducing the latest edition to our family `Daphne' she is a 4 month old British Bulldog, and has a great sense of smell...she is now my new offical taste tester...lol

The smaller pic's in my profile, are of my beautiful baby Armani, unfortunately she passed away at the age of just 3 1/2 years, she was a neapolitan mastiff, and had a kind and gentle nature, and could also be very sensitive to those she loved! Thank you to all of you that have emailed your interest in her, I have to admit she was pretty adorable....Happy Days!
Read more