The Cook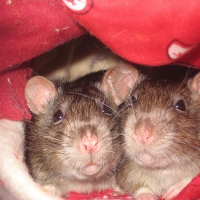 hoosiermom68
Merrillville, IN
Taste-o-Meter
People are ADDICTED to hoosiermom68's recipes!
About Me
I have been married to the love of my life,Mark, for almost 16 years,and we have a 14 yr old daughter.I am an animal lover with lots of pets:I have all kinds,but as you can see,my favorites are my rats-I love them dearly...
Now y
ou see why I have only one child! I am a homebody,a terrible Nintendo/computer/tv junkie,I love to sleep late and watch youtube.
Being raised by a natural-born cook,it's in my blood and I am most happy when I'm in my kitchen! Cooking for my family is one of my passions and I enjoy watching their faces when something tastes good.I have been teaching my daughter how to cook for the last few years and I must admit,she's pretty good!
I experiment in the kitchen all the time,and am always creating new dishes.Most of the time they're pretty delicious,but sometimes they're...well...let's not go there.I am not afraid to try new recipes out,and I love exploring all the wonderful goodies this site has to offer.
Happy cooking to all!!
Read more