The Cook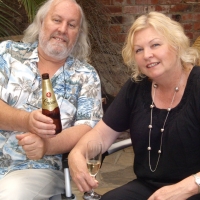 huxter
Mundoona, Australia
Taste-o-Meter
People LOVE huxter's recipes.
About Me
We live in a rural area of the state of Victoria in the south of Australia , surrounded by stonefruit orchards ,vineyards ,dairying and cropping -- with some beef and sheep .On our small homesteading farm we grow our own veges
, a lot of our fruit and raise calves to killing age for the home freezer . Chickens and ducks also .
So my cooking is produce driven with an emphasis on fresh dynamic flavours with lots of home grown veg and herbs . Quality ingredients are everything with me as well as well-defined flavours ,no subtlety in my recipe book !
As Australia is so multi-cultural with a very recent migrant history ,my influences are South East Asian ,North African ,Mediterranean and Indian .But I love home-style farm cookery too ,with an interest in bread making ,preserving our harvest ,and cooking the food our forebears ate ,although with a modern twist .An old fashioned leg of spring lamb but stuffed with spinach ,fetta and pine nuts ! Or a good steak ,grilled to perfection ,sliced and served alongside a Moroccan cous-cous made with dried fruits and preserved lemons .

Tonight for instance I'm cooking some chicken pieces in a Middle Eastern inspired way ---tomatoey ,herby and spicy and served with homemade pasta and a sprinkling of sumac ! --and offer some Greek-style yoghurt on the side to cool the chilli.

Love a food adventure --a new ingredient or a fruit I haven't seen or eaten .Different game meats like pigeon or hare .I'm growing oca at the moment ,an old Andean tuber a bit like a potato but without the disease problems .So I'm experimenting with cooking and serving them ,learning what tastes improve them

Photo was taken on Chistmas Day with my wife having her favourite bubbly and my good self preparing for the onslaught with a cold lager !!
Read more
My Followers