The Cook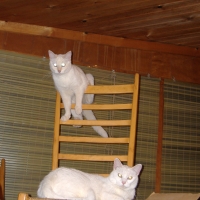 iluvcats
Mankato, MN
Taste-o-Meter
iluvcats's recipes haven't caught on yet
About Me
I love to cook. I almost went to gourmet school when I was younger, and have often thought about opening a restaurant. I love foods from all over the world. I lived in Europe for a time, and was able to try cuisines from all ov
er during my travels. I think it's a wonderful way to break into a new culture - we all have to eat, and what a great way to start to learn about a culture that may be different than your own!

But it doesn't all have to be "exotic". Sometimes good old midwestern hamburger hotdish (casserole to the rest of the country) suits just fine. I really like a wide variety of foods from all over, and the only thing I'm not very fond of is fruits and meats together, or sweet meat dishes. I'm not a big sweets eater either, so most of my cooking preferences go towards the main meal items as opposed to desserts.

I have one daughter, who, despite being a teenager, is still the light of my life! LOL . She does help in the kitchen, and thankfully has always had an adventerous palette and enjoys my food explorations.

I love animals, as you can tell by my name. I have 3 cats and a dog, and most of my life have owned horses as well, although we lost the last one this winter and I haven't yet decided if I'll get another. But my sister has many, so they're still available to me when I want/need my horsie fix!
Read more
My Latest Recipes 0
Oh my. I have no recipes. :\