The Cook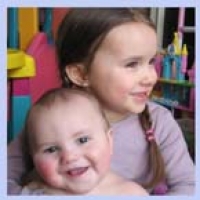 irishmama
Chesterfield, MI
Taste-o-Meter
People LOVE irishmama's recipes.
About Me
My name is Michelle, and I'm a 31- year-old, food lovin' mama with a food lovin' husband and 2 small kids. I'm a decent cook, but I can't begin to compare with MY mama, the fabulous Krumkake. I was raised on good eats (not that
my palate appreciated it until I'd moved out of the house...d'oh!), and I can only hope to be half as good as she is one day! I do enjoy cooking, but I hate clean up and my husband works odd hours, so I don't cook as much as I'd like to - or probably as much as I should. ;) But my oldest is so far a very adventurous eater, which I'm very excited about since (as my mom will confirm) I was truly the world's pickiest eater as a kid, and I was sure I would be cursed with the same. Of course, my youngest could still fulfill that curse...he's not really eating solids yet, so only time will tell.
Read more