The Cook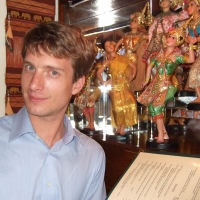 jaygibson
Honolulu, HI
Taste-o-Meter
People generally enjoy jaygibson's recipes.
About Me
I like to cook! I am a vegetarian and love experimenting. Because I am living in Honolulu right now I am experimenting with a lot of Asian foods I have never seen before and often cannot even read the labels of! I like to combi
ne what I know with something unknown to create something new. Often it is a horrible failure, but when I have a success I write it down. I plan on uploading the best of my successes so others can try them. Hopefully this way I can contribute to the ever-expanding compendium of delicious vegetarian recipes out there. Please provide me with feedback, positive or negative. Thanks & Enjoy!
Read more