The Cook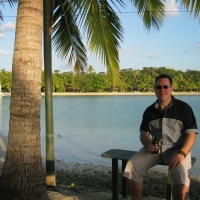 jeef_boner
Auckland, NZ
Taste-o-Meter
People LOVE jeef_boner's recipes.
About Me
I love food, unless you feed me aubergines! English-born but now based in New Zealand with my Kiwi wife. Happy to try just about anything at all, but most of my food at home includes, in varying quantities, garlic, chilli, coria
nder and ginger, together with copious amounts of black pepper. Plain food bores me, so I'm lucky I've got the (lack of) taste buds to allow some heat and flavour in my cuisine.

Finally, I downgraded from expert to intermediate, as I keep discovering new and better recipes!
Read more
My Latest Recipes 33
Saw these in a newspaper supplement. With apologies to Annabel Langbein, a great kiwi chef and personality, here's my take on her...

What's not to like about this? Chocolate? Check! Runny centre? Check! Rich exterior crust? Check! This is a molten cake whe...

Slow Roast Lamb from jeef_boner in Auckland, NZ.

Slow roasting works great with cheap cuts of meat. Sadly none of my local butchers had a shoulder of lamb so I settled for leg! ...

I rue that there is no 'English' cuisine style, o which this belongs. Stuffed roast chicken is an easy, easy Sunday night feed ...

In NZ we're lucky to have farmed king salmon available at great prices, and when the cold smoked slices are on special we go nuts ...

Simple weekend lunch for us. Use my stock recipe or substitute the best chicken or vegetable stock you can find! My wife keeps t...
My Groups