The Cook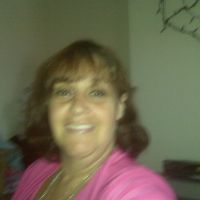 jeri817
Brooklyn, NY
Taste-o-Meter
People generally enjoy jeri817's recipes.
About Me
I HAVE ALWAYS BEEN IN LOVE WITH FOOD!1 I HAVE FOUGHT THE CONSEQUENCES OF MY LOVE FOR DECADES! ONE YEAR AGO ON JULY 22ND, I FINALLY GAVE UP CIGARETTES AFTER 31 YEARS! MY LOVE OF COOKING HAS ONLY INTENSIFIED! I AM A GRANDMOTHER OF 2
AND MOTHER OF 4 . AFTER BEING A DOG LOVER AND OWNER FOR ALL MY LIFE, I FIND MYSELF WITH 5 CATS!I HAVE FIBROMYALGIA AND DO NOT GO OUT MUCH. I LOVE ORDERING FROM CATALOGUES AND EBAY! COOKING AND FEEDING THOSE I LOVE IS MY PASSION. I HAVE BEEN SINGLE FOR MANY YEARS, BUT NEVER HAVE A PROBLEM ENTERTAINING MYSELF.WHAT WITH TV, COOKING, BOOKS, MAGAZINES AND THE INTERNET! ALTHOUGH...SOMETIMES...:)ALL WHO WOULD LIKE TO CHAT ARE WELCOME. I ENJOY BEING CREATIVE AND INNOVATIVE WITH MY RECIPES(OF WHICH THERE ARE THOUSANDS BETWEEN MAGAZINE CLIPPINGS, COOKBOOKS AND INTERNET SITES! OH! DID I MENTION I AM A BIT OF A HOARDER??!! LOOKING FORWARD TO A BIT OF CAKE, A CUP OF TEA AND A CHAT!
Read more
My Followers