The Cook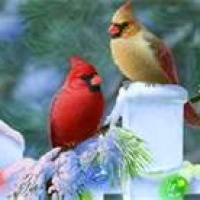 jlv1023
Plymouth, WI
Taste-o-Meter
People are ADDICTED to jlv1023's recipes!
About Me
I love to cook, Have been cooking for over 45 years now. I try anything new and of course, I will add or change the recipes to my likings or what I think may taste better. Everyone calls me "Betty Crocker". to begin e
xchanging ideas & recipes.

Have any numerous requests for my recipes and my dream is to publish my own cookbook. Anyone out there--can you help?

My love is my husband Eric and my cats, Truffles and Sadie. Must have cats around me at all times. Love collecting cookbooks (I have tons)and continue to add more, I recently found my religion and my new best friend "Joanne" and I talk and discuss the Bible regularly which makes me feel closer to God than I ever had before. Not sure what I would do without her and her family, since my family and friends are still in Connecticut. When coming to Plymouth, my new friends include Heidie & Janet

My favorite place that I have traveled is Paris, and being from Connecticut, I would visit Ogunquit in Maine every 6 months and I miss that so much.

My favorite food you see is Shrimp, really can't get the good stuff here in Wisconsin like you can on the East Coast, miss that!! and a lot of my favorite "hole in the walls" as Mom use to call them where we would eat out at regulary, such as Testo's, Frankie's, Ruby Tuesdays, Colonial Tymes, Wellingtons, and on and on, .....

Unemployed

Hope to see all of my cooking foodies and email me, I like talking to other cooks!!
Read more