The Cook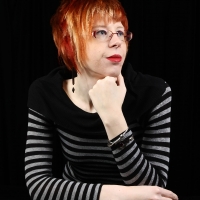 jo_jo_ba
Oshawa, CA
Taste-o-Meter
People are ADDICTED to jo_jo_ba's recipes!
About Me
I'm a Holistic Nutrition counsellor by day, but every chance I get I'm in the kitchen dreaming up my next culinary caper! Baking is my passion, but teaching the value of good food to whole families is close to my heart. My passion
is re-instilling the love of good-quality, home-made and mostly healthy food into the hearts and kitchens of children and their families today. I believe that any "homemade" food, even when labelled as "naughty", is a more wholesome treat than pre-packaged, cookie-cutter junk.

These days, I'll bake anything and everything, so long as there's someone to eat it! A medical problem in my early adult life left me intolerant to caffeine, alcohol, meat, dairy, egg yolks, oils, nuts or anything high in oil or fat content – ironic since I used to be a carnivore weighing over 200 lbs in my teens! Now, the focus is on enjoying what I can eat – not just eating because I can!
Read more
My Latest Recipes 2214
Prune Puree from jo_jo_ba in Oshawa, CA.

Since I use it in so many chocolate recipes (like http://www.grouprecipes.com/138528/chocolate-zucchini-brownies.html), I figured ...

Absolutely delicious and nutritious, this takes marinated, dried eggplant and puts it on a pedestal, perfect for pasta sauces and ...

Zero sugar goes into these rich, decadent morsels that have a taste reminiscent of caramel with a touch of sesame flavour. Even th...

You will never be able to guess that these rich, moist and decadent vegan brownies are almost fat free, whole grain and reduced in...

This dense, brownie-like snacking cake is packed with a double hit of ginger - fresh minced adds a wallop of spicy heat, while cry...

Adapted from Emily Mainquist, Special Contributor at The Daily Meal, I used flaxseed as an egg replacer and to add extra nuttiness...
My Groups