The Cook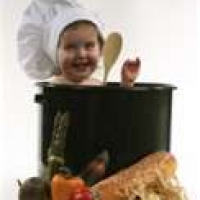 joannanha
Wilmington, DE
Taste-o-Meter
People generally enjoy joannanha's recipes.
About Me
I am a self-proclaimed "foodie" who enjoys cooking more than eating. My friends and family have declared me an expert cook, and many have suggested I go into business (catering, restaurant or writing cookbooks) for myself. As the
mother of a very active 2 year old who just welcomed a baby sister the week before Thanksgiving, I find I don't have the time, energy or enthusiasm that I once did for cooking, but I still enjoy savoring the look on my husband's face when I try something new or make one of his favorite dishes. My husband says the only thing better than his greatest memory of me when he would come home while I wasn't working and find me still in my pajamas, glued to the Food Network with cookbooks piled around me and me furiously making notes was to come home and find me coooking one of the meals! Both myself and my husband share a similar heritage or Italian and Irish mix, but we tend to lean towards the Italian side in tastes and looks. That being said, I have had to learn how to be creative as my husband cannot stand onions (what red blooded Italian man doesn't eat onions?)! In many of my recipes you will find onion powder or shallots as these seem to be the only things that don't offend my husband's sensitive pallet, please feel free to chop, dice and utilize onion (and its many relative varieties) in any way to suit your taste. We have become very exploratory in the kitchen and with the cuisine we sample - every time we have something in a restaurant we want to recreate it better than what we enjoyed so from time to time you may see a dish that sways far from my foodie lovin' roots. Hope you enjoy it all!
Read more