The Cook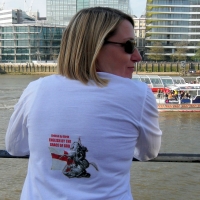 joburke1970
Wandsworth, England
Taste-o-Meter
joburke1970's recipes haven't caught on yet
About Me
British by Birth, English by the grace of God. Married with 2 kids, I'm turning 40 later this year & have just booked venue for party. I've Lived in London for all of my life & have no intention of leaving. "When a man
is tired of London, he is tired of life, for there is in London all that life can afford." (Dr Samuel Johnson, 1777).

Fave Music: Anything by the Foo Fighters, Kings of Leon, Nirvana, Radiohead & Duran Duran (a throw back to my teens but nce a Duranie always a Duranie)!

Fave Films: Rocky Horror Picture Show, The Shawshank Redemption, To Kill a Mockingbird, American Werewolf in London, Breakfast Club, Shaun of the Dead, Hot Fuzz.
Read more
My Latest Recipes 1
Spaghetti Bolognase from joburke1970 in Wandsworth, England.

Hopefully I have got the timings right on this, I know this recipe by heart & am typing from memory!...
My Groups