The Cook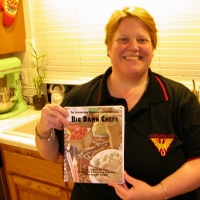 julesong
Seattle, WA
Taste-o-Meter
People are ADDICTED to julesong's recipes!
About Me
It's simply this: I love to cook! :) I've been hanging out on the internet
since the early days and have collected loads of recipes. I've tried to keep
the best of them (and sometimes the more unusual) and look forward to sharin
g them with you, here. The greatest influences on my cooking have been my mother, Julia Child, and my cooking instructor Chef Gabriel Claycamp at
Seattle's Culinary Communion.

I published a cookbook about a year ago called "Big Damn Chefs: The International Browncoat Charity Cookbook" which has done pretty well - I'm very pleased with its outcome. :) You can get to it at http://www.BigDamnChefs.com

If you recognize my username... yep, you probably know who I am. :) I'm
"Julesong" pretty much everywhere (including RecipeZaar and Live Journal).
Read more