The Cook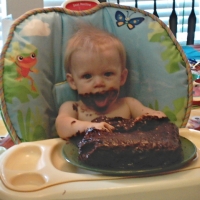 kitchenmouse
Richardson, TX
Taste-o-Meter
People generally enjoy kitchenmouse's recipes.
About Me
First and foremost I am a walk by faith kind of person. I am a wife, mother to three and "nana' to four. Had I known they'd been this fun, I'd have had them first! Writing is one of my passions..cooking another. When I cook somet
hing it is the best feeling in the world if I can see a big smile on their faces. Then I know I've made someone happy. And that is my goal. My family moved a bit so I grew up in Grand Saline Texas and Bay City, Texas. Family functions are usually centered around the table in Texas. So, I learned from Mama at an early age how to prepare, cook and serve the best meals. We never really went in for fancy stuff. Most of the time it was plain "country cooking". That's me...plain country woman in a big city now!
Read more
My Latest Recipes 5
My Mother made this dressing for years, every holiday and family reunions. It is not as hard to make as you think. You may also ch...

Heaven in a Bowl from kitchenmouse in Richardson, TX.

When I made this for Thanksgiving a few years ago, my husband "hid" it in the crisper for fear everyone else would eat i...

My mother was a wiz in the kitchen and when I was married she shared this little recipe with me. It is a hit with my husband and...

I found this on a cake box, have been looking for it forever. It's easy but looks like it took a long time. This cake brings back ...

I discovered this mouthwatering recipe in a magazine when I was 18 years old. It was my "job" to make it at Chritmas and family ge...