The Cook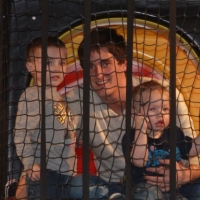 kmsmith
Indianapolis, IN
Taste-o-Meter
People are ADDICTED to kmsmith's recipes!
About Me
I am a very boring person. I am more excited about myself than others are about me. I am a stay at home mother of 3 beautiful young adults, Dohn (boy 25), Kristy (girl 23) and Steven (boy 19). I am also a proud Grandma of 2 of the
cutest little boys I have ever seen! Kristy and Steven are both attending college and living away from home, so I am an empty nester. Mike, my new husband is an avid hunter, so cooking venison has become one of my favorite things to play around with. My favorite things to do are find good deals at the grocery store, find ways to use all my leftovers cook and spend as much time with my kids as possible!
I have 2 weddings coming up. Dohn and Kristy are both getting married so I have been working on cookbooks to give them as a gift.
I have an extremely close relationship with my kids. I am so blessed to be their mother. I never knew I could love something so much 25 years ago when I was only 15 years old when I gave birth to my first son. I promised them that I would always be there for them, and help them to fulfill their dreams and be someone who made a difference in this world. With that, they are my best friends and I live my life for them everyday.

Read more
My Latest Recipes 35
Red Eye Gravy from kmsmith in Indianapolis, IN.

A morning breakfast made up of your left over coffee. It is hard to get people to try this, it sounds weird.."gravy made from...

This is a simple southern dish that can be served hot or cold and goes well with a hot meal or a summer get together. ...

This is made perfectly to transfer strait to your plate from the pan. Serve with your choice of garlic bread and a tossed salad....

It is nothing to be affraid of! What you see is not what you get. It is amazing, once tried it will have you biting your tongue...

Easy dip to whip together so you can work on other apperizers. Compliments of Franks Hot Sauce...

This recipe will add beef back to your burger...
My Groups