The Cook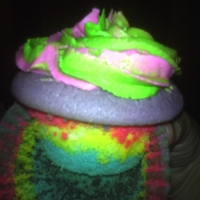 knwalter
Paulsboro, New Jersey
Taste-o-Meter
People are ADDICTED to knwalter's recipes!
About Me
My Lauren is 2 years, 7 months old now. Oh goodness, it seems like just yesterday I was bottle feeding and hoping she would talk soon. There are so many funny things she says, just today she told me "we jump out of the tabl
e and then jump back into the table and that's where baby's come from". She also counted up to 20, except it went like this "11, 12, 13, 16, 20-teen".......so precious! Between running after her and baking, my plate is pretty full. I've perfected the most perfectly moist chocolate cake I've personally ever had. Getting ready to make some ice cream cone cupcakes for a party this weekend. I hope everyone is as happy as I am and wish you all well.

And as usual, I offer a BIG hello and warmest wishes to all my friends, old and new!
Read more