The Cook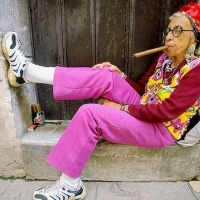 krumkake
Chicago Suburbs, IL
Taste-o-Meter
People are ADDICTED to krumkake's recipes!
About Me
I love to cook/bake and I love to eat/eat - a bad combination, but I've learned to live with it. I enjoy entertaining, but prefer it casual. I'm always looking for new recipes, but I'll never forsake my old tried and true. I'm
always up for trying a new restaurant and a new taste. Cookbooks, recipe browsing, and cookies are my addictions...better for me than drugs, I figure. I live by the motto "Life is short - eat dessert first". I'm not going to leave this world thinking to myself "Dang, I wish I hadn't eaten that piece of cake."...live, love and enjoy every moment you're blessed with! Life is precious - please don't waste it!!
Read more