The Cook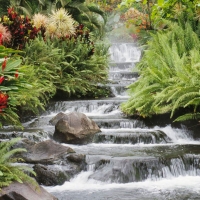 linda2230
Las Vegas, NV
Taste-o-Meter
People are ADDICTED to linda2230's recipes!
About Me
My taste in food is not limited to any one ethnic food category. I love foods that have a depth of flavor that is spicy, well seasoned and uses an infusion of different spices and herbs depending on the dish. I like to prepare
dishes that are both nutritious and tasty, using organic ingredients.

My mother was Syrian/Lebanese and my father was of mixed heritage, black/creole with his mother's ethnic roots coming from the Island of Santo Domingo; however, my father was raised in New Orleans, Louisana though. My mother learned to cook creole type dishes from my grandmother (my fathers' mother). My mother was raised in Kiwanee, Illinois. I was born and raised in Los Angeles, CA. It suffices to say that I grew up on infusion type food. One thing though, even though my parents had their own business, we use to have large family gatherings with lots of food on every holiday.

I was raised in the food business. My parents had 3 restaurants and my mother was the star. She prepared most everything from scratch and her food was wonderful. My mother was also a professional gourmet cateress. She always received rave reviews from her clients, it was unbelievable what she was able to achieve and she always wanted to learn more so that she could improve her skills. I learned so much from my mom. I will share some of her and my recipes as time goes on. My passion for food comes from watching my and working with my mom and my admiration for her. Even though my name is Judith, I chose my profile name because my mother's name was Linda and I dedicate all of my recipes that I have posted to her.

Jimrug1 is my first cousin. Jim's father and my mother were brother and sister. Jim is a wonderful cook as well. I think it is in the genes.
Read more
My Followers