The Cook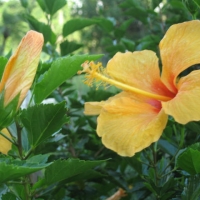 lipsantos
Curitiba, BR
Taste-o-Meter
People LOVE lipsantos's recipes.
About Me
I'm a former Chicagoan who now lives in Brazil, where I teach English as a foreign language to college students and adults. I grew up on a farm, where I learned to cook and bake with my mother. Later, living in Chicago, I enjo
yed many ethnic restaurants and began trying to incorporate those flavors in my home cooking. I also learned a lot by watching the Food Network and reading recipe books and magazines. It seems that my cooking is always evolving; changing with the availability of ingredients or the discovery of a new recipe or technique. Here in Brazil, I've learned to make a few of the local dishes and have adapted my style to the variety of fresh foods available, relying less on convenience foods. I have also started modifying recipes when I cook for a couple of vegetarian friends; eliminating meat, reducing oil and fats, and increasing fiber and whole grains. But I still get raves every time I turn out a pan of brownies, sometimes made with Brazil nuts instead of walnuts!
Read more