The Cook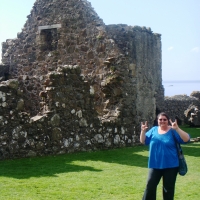 lizzconn
Naas Co Kildare, IE
Taste-o-Meter
People LOVE lizzconn's recipes.
About Me
I'm an LA beach girl living in Ireland..... I was born in Ireland and my parents immigrated to LA when I was 10 months old.. back in Ireland 10 years now and enjoying travelling Europe... so many cultures and foods to get to know!


I cannot get used to the climate so I imagine that someday I will move home or somewhere else with a sunnier DRIER climate.. until then, it's all good! Can't beat the light nights in the summer in Ireland...... daylight until about 11pm!

I'm the oldest and the only girl with 2 younger brothers and 2 nephews. I was never blessed with my own family (HIS plan, not mine) so family and friends are EVERYTHING to me. I'm not an old spinster cat lady, I am an animal lover and cats are the easiest pets when you travel!

I decided it was time to start cooking .... being single it is always easier to eat out, take-away or ala ding (microwave)! I'm getting older and trying to be healthier so I decided I wanted some control of what I'm putting in my body... ALSO..... it's so enjoyable and theraputic...

I love travelling, going to the beach, swimming, sailing, reading, music, going to plays and shows, museums, the movies, going out to dinner, getting together with family and friends, gardening, the Lakers, and COOKING once I get started!
Read more
My Followers