The Cook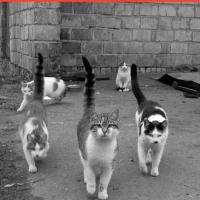 lkredhat
San Rafael, CA
Taste-o-Meter
People generally enjoy lkredhat's recipes.
About Me
Hey, everyone!
I made a vow about 2 years ago to see if I can add more fruits and vegetables to my diet, while cutting back on sweets and processed starches. I figured that would probably be more successful for me than "diet
ing" and overall, I think it's improving my health and my husband's health.

I have a lot of Asian and Southwestern and Mediterranean influences in my cooking, but truthfully it's mostly crazy California melange style. Lots of dishes get made up, depending on what's on hand. I try to cook ahead and always have rice, pasta or potatoes on hand.

I love reading recipes and enjoy reading books like "Cookwise" that instruct me on the chemistry of cooking. But if a recipe is too complicated, I probably won't make it--I just don't have the attention span or the time for the extensive clean-up!. I will eat everything but my DH is "Mr. Fussy." I'm always looking for ways to cook faster, fresher, lighter and cheaper while still satisfying Mr. Fussy.

If I don't accept a "friend" request right away, don't feel hurt--I'm just busy!
Read more
My Latest Recipes 2
A simple but versatile recipe for preparing turkey thighs, one of the cheapest meat available. Serve them as is over rice or nood...

I'd been dreaming about artichokes and red pepper--something a little festive and colorful for spring. Made up this quick frittat...