The Cook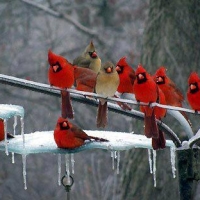 lovebreezy
Colorful, CO
Taste-o-Meter
People LOVE lovebreezy's recipes.
About Me
Now retired night owl, realizing that being taught how to open a can, really wasn't learning how to cook. Am from a firefighting family so I did/do know there's good eatin' out there.
Husband and I are the proud adoptive parent
s of a basset hound. She and our (late) basset/black lab, Breezy are enough of a family for us.
We like to travel and spend time with family and friends. We don't host much but are always happy to bring a dish along. So, that is my current quest in finding new recipes -- things that travel well. (Love those casseroles.)

~~~~~~~~~~~~~~~~~~~~~~~~~~~~~~~~~~~~~~~~~~~~~~~~~~~~~

Velveeta is a great cheese, in it's proper place, like in mac-n-cheese or grilled cheese sandwiches – yum. Hey, it is so!
Many of you will not admit to liking it, but secretly you know you do. Maybe you're one of them. Get over it! It's pretty much just cheddar cheese and milk. You like those things so…
Now take a peek at the VELVEETA group and sign up. You'll find lots of uses for Velveeta. Besides, it will make me happy.
Who wouldn't want to do something so simple, so kind, so easy, that will bring a smile to a stranger? Pay it forward!
Then when you come across a recipe that calls for pasteurized processed cheese product a.k.a. Velveeta, send it our way. Help this group grow and give other Velveeta lovers an easy place to find its recipes. TIA
And Yes, I like SPAM too!
Read more