The Cook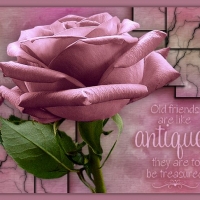 lovnlaughter
Bartlesville, OK
Taste-o-Meter
People generally enjoy lovnlaughter's recipes.
About Me
I'm the HR Director for a manufacturing company with a background in the temporary staffing industry and sales. I LOVE to cook for get togethers at my house, or to take food to family and friends. Two daughters and one grandaughte
r. Only one of my girls is still at home. I'm divorced and just considering the possibility of a date....someday. Major chicken! Thank God I'm okay with my own company! I'd love to try everything Paula Dean has ever done on tv, but my time is more suited to Rachel Ray. If you have good baked fish recipes, send them my way. I'm trying to learn more in that area. Of course, I always welcome anything with chocolate in it. In the meantime, hopefully I can share some good southern recipes with you all too! God bless!
Read more