The Cook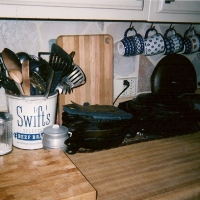 lumpy1
Markham, IL
Taste-o-Meter
People LOVE lumpy1's recipes.
About Me
I believe that to eat food is a human right. I am constantly amazed at how many differant types of foods there exist, especially to be able to go to a local market in the U.S. and get almost any kind of food from around the world.
I'm always trying something new. I would never claim to be an expert because I am always learning. My favorite place to get cooking ideas is right at the grocery store from other shoppers. Also, I harvest any type of edible plant within 2 square miles including morels, elderberry, wild onions, blackberries, and mulberry. Also, I have 2 small vegetable gardens, peach trees, and berry bushes at home. And I live in the city! I'm not to proud to pick through the markdown produce racks for cheap food and my recipes reflect that when they call for loads of tomatoes, peppers, or eggplant. Also, I've heard of the people who scrap for food from dumpsters. I have never tried that, but one time at starbucks the girl slipped up and told me they throw away their "old" coffee which made my ears perk up. As the trivet hanging in my kitchen states-I'm not a fast cook, I'm not a slow cook. I'm a half-fast cook.
Read more
My Latest Recipes 48
SOS This new Grouprecipes page blows my mind. OMG, how long ago did they change it?...

Grilled Cake from lumpy1 in Markham, IL.

For this recipe I used a cake recipe called Salsa Cake from the Marlboro Country cookbook, Fifty From The Trail. The cake recipe ...

This is a Quaker Oat Bran Hot Cereal cookbook recipe. 1989 Publications International Limited. Its called Banana Bran Loaf. I us...

This recipe came from my good friend Carol. I added tumeric, because it is good for your brain and gives this soup a natural ye...

This recipe is from the book Food From The Countryside, by Avril Rodway, illustrated by Zane Carey,1992, grange books. i added my ...

this is an easy camp soup. i substituted dried beef jerky chopped with a chef knife for dried goat meat, pounded on a rock. for dr...