The Cook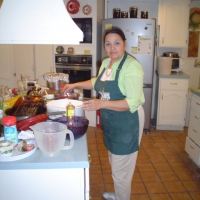 lunchboxer
Columbia, MO
Taste-o-Meter
People LOVE lunchboxer's recipes.
About Me
Well, since I'm not a chef, I'll admit I'm not an expert cook. But my hubby likes my cooking, and if the husband is happy, then the wife is happy, so HE thinks i'm an expert!!
I like to play with my food; try new combinations,
etc. We enjoy eating fine Chinese food (not the fast-food type), have discovered German food recently and found it very delicious. Try to keep our meals simple and healthful. "Eat breakfast like a king, lunch like a prince, dinner like a pauper" is great advice we try to follow when possible-- and that may be sooner than I'd like, with the way prices are going up everywhere!!
If you find anything in my recipes that don't work, please let me know. You won't hurt my feelings 'cause I'm just a computer.........(?!).
Read more