The Cook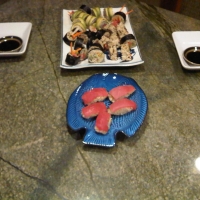 luv2blocavore
Battle Ground, WA
Taste-o-Meter
People LOVE luv2blocavore's recipes.
About Me
Not sure if I love to cook because I love to eat, or the other way around! Either way, cooking's a passion and my favorite creative release. I don't follow recipes (except when baking forces me into it), but cook what's in season,
looks yummy, or is hanging out in my well-stocked pantry (can you say canned tomatoes from last summer?). So lucky to live in the abundance of the Pacific Northwest!

A plant-based diet is my focus lately. I only buy animal protein that is local, humanely raised by small family farms, and not stuffed with hormones or junk God never intended animals to eat. And I do my best to stick to sustainable seafood (see http://www.montereybayaquarium.org/cr/cr_seafoodwatch/download.aspx).

Anyway - hope you enjoy my creations (and ramblings) up here! Bon appetit!
Read more