The Cook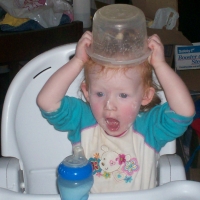 maddynlilysmommy
Greensburg, IN
Taste-o-Meter
People LOVE maddynlilysmommy's recipes.
About Me
I'm a 25 year old mother of almost 2 beautiful little girls(#2 due on Oct 4). Ihave been cooking on atleast helping to cook as soon as I could reach the counter. I think it is very important to get children in the kitchen at
a young age to develope a love and respect for food. I even have my 3yr old helping in the kitchen.

Some of my families favorite foods are veggie beef soup(as my daughter calls it), roasted chicken, pretty much anything on the grill, spaggetti and meatballs, and my hubby's homemade bread.

I'm here mostly to find new and interesting recipes because I get so tired of having the same old things over and over again and being a working mother it's hard to find the time to experiment with new ideas.

Read more