The Cook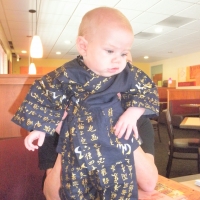 markeverett
Riverside, CA
Taste-o-Meter
People are ADDICTED to markeverett's recipes!
About Me
I love to cook and my husband and I often entertain and cook for our friends. Food tastes better when shared with loved ones. Our favorite times are evenings spend cooking with or cooking for friends and family. We love to try new
recipes!
I have two kids, a son who recently got married! And now he and his wife (a great girl!) are expecting my first grandbaby! My daughter is an Architect in Denver. She graduated from USC last May and immediately was offered a great job helping design churches and church schools. She's pretty amazing!
My husband and I are very involved in out church and community. We have a close circle of friends who have become family. We don't live all that near our bio-families so good friends are wonderful.
I'm an actor/director and love to perform in all kinds of media. This winter I was in Japan working at the Disney Resort there.

"Enjoy life! This is NOT a dress rehearsal!"
Read more