The Cook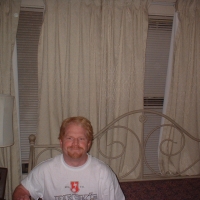 martyk35
Winona, MN
Taste-o-Meter
People LOVE martyk35's recipes.
About Me
I'm 5 foot 8 inches that loves too cook. I've been coking since I was young when I use to help my mom out in the kitchen when I was young.
I've sereved my country proudly from October 1, 1992 to October 4 1999. I've been to Ft.
Polk La, Camp La June SC, Hati, Bosnia, Walter Reed Dc, Ft. Benning Ga, and finally Germany. While I was in the service I found out that I still loved to cook. I use to BBQ in the Late Spring to Late Fall. Then when the cold weather hit I moved inside to cook. I was a Infrantry Solider while I was in the service.
When I got out I moved back home, worked at a Factory for little over two years. In the Fall of 01 I went with my Father to Le Cordon Bleu in Mendota Heights Mn, to visit the school. I went there in July of 02 and graduated in November of 03. From there I worked at the Mall of America as a Pastry Chef, and the to The American Legion Post in Apple Valley. After my son was bgorn I moved back home to Winona and Worked at the Green Mill.
I use work in Arcadia Wisconsin at Ashley Furniture. I'm cooking at Betty Jo's in Winona Mn and I'm also the Head Cook at Tiger's in Winona. I only work a day or two at Betty Jo's but I work full time at Tiger's. I've been at Betty Jo's since ovember of Last year nd I've been at Tiger's since december of last year when they open up. They are both great places to eat. I Love all types of food. I'm trying to get use to Liver and Cream Spinach. I love Boston Market's Cream Spinach, but not the one I grew up on. I never cared for Liver but with me being a Chef there is no room for hate or don't care for you have to try everything.
I'm looking for all types of seafood recipes, Southern, Cajun, Thai, BBQ recipes also.
My future wife has good recipes. I need her to be on this site and she can share her recipes.
I will be leaving for a vacation in July to go down to Austin Tx to see my Fiancee and to check out places where I can work at.
Read more