The Cook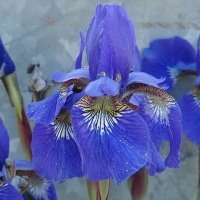 maryo
Rumney, NH
Taste-o-Meter
People generally enjoy maryo's recipes.
About Me
My hobby is genealogy, work on it whenever I can. Like to cook, and never thought I'd say that, my kids when they were younger used to ask me what I was burning for supper tonight! They knew when the smoke alarm went off dinner wa
s ready! Now I have my son, daughter-in-law and 9 yr old grandaughter living here, and it's very hard to come up with a meal that everyone likes. Let me tell you, it's hard to hide onions, I've tried almost every trick in the book!! I work a full time job managing a recycling center, so when I come home and it's my turn to cook I like something tasty and simple.On my days off is when I want to do something more. My grandaughter loves to help, and we have fun cooking.
Read more
My Latest Recipes 3
A new spin on your holiday baking. Thought you guys might enjoy the recipe. We might try this one!...

Chicken with zing, served over rice, add a salad, a big hit!...

Easy to make, tastes great, great fall dish!...