The Cook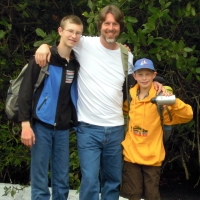 mattandmaren
Kirkland, WA
Taste-o-Meter
People LOVE mattandmaren's recipes.
About Me
I'm a full-time dad for two boys, 10 and 14. Fortunately they are very adventurous eaters (Their favorite cuisine currently? Malaysian!), so I'm free to try any recipe on them and my wife! We tend to eat more vegetarian than meat,
and gravitate towards the spicier cuisines - Thai, Cajun, Indian, Pakistani, although the nouveau Mediterranean dishes have made a lot of appearances on our table lately! For the past two years my wife has cut out cow dairy, chicken eggs, wheat and cane and beet sugar. That's made the cooking a little more challenging, but I think we still eat very, very well!
Read more