The Cook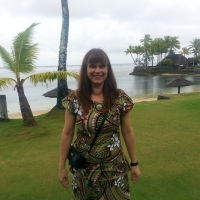 mbelisle
Suva, Fiji
Taste-o-Meter
People are ADDICTED to mbelisle's recipes!
About Me
My recipes are, by necessity, large in quantity for the most part, (family of 5 athletes) and quite filling but I enjoy cooking and have been trying to keep the calorie and fat count down, watch the balance of starch to protein to
cope with diabetes. That is all changing now with my move to Fiji. My cooking will be for one or two and I am excited to make use of the local produce and traditional Fijian foods available here.
Read more
My Latest Recipes 186
These can be done using any ground meet - lamb or beef are both nice. If you prefer less heat, adjust the seasonings and spices ac...

The original recipe called for powdered garlic but I prefer a mix of fresh garlic, fresh ginger and hot peppers, minced fine, to g...

This recipe, like many of mine, has been adapted to use locally available ingredients and spices. Vegetables and meats can be chan...

This is a take on a mexican dish made with locally available ingredients. We used pumpkin and zucchini but many other vegetables s...

This is a recipe from a cookbook put out by the Fiji Ministry of Health. I have adapted it based on ingredients I had readily avai...

This recipe came from Simply Recipes. I didn't really measure the marinade ingredients other than to use equal parts of soy sauce ...