The Cook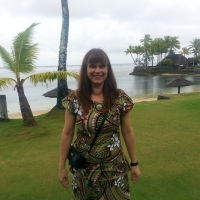 mbelisle
Suva, Fiji
Taste-o-Meter
People are ADDICTED to mbelisle's recipes!
About Me
My recipes are, by necessity, large in quantity for the most part, (family of 5 athletes) and quite filling but I enjoy cooking and have been trying to keep the calorie and fat count down, watch the balance of starch to protein to
cope with diabetes. That is all changing now with my move to Fiji. My cooking will be for one or two and I am excited to make use of the local produce and traditional Fijian foods available here.
Read more