The Cook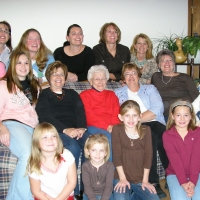 mccookcook
Indianola, NE
Taste-o-Meter
People LOVE mccookcook's recipes.
About Me
I really enjoy cooking. After teaching part and full time for seven years, I decided to make a drastic career change and made cooking my career. Apparently, I am pretty darn good at it; my food always seems to be a hit whether
at work or at home.
Read more
My Latest Recipes 37
I just threw this together tonight. I had chicken, ham and swiss to make cordon bleu but decided to step it up a notch w/ asparag...

Another of those recipes I just haven't quite brought myself to make....

Fried Dandelions from mccookcook in Indianola, NE.

It's that time of year when dandelions are abundant here. I came across this recipe and am thinking about trying it just to elimi...

This goes with the saurkraut cake that i have posted. But it sounds good and could probably be used on any cake that you need cho...

Sauerkraut Cake from mccookcook in Indianola, NE.

The recipe says "Tastes like chocolate cake with coconut inside." I wouldn't know, I haven't been brave enough to make ...

My mom made this for my Grandma's birthday. It is a weight-watchers-friendly soup. Mom likes to change things around in recipes ...
My Groups