The Cook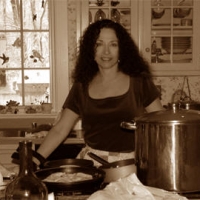 melsmex
Medina, OH
Taste-o-Meter
People LOVE melsmex's recipes.
About Me
I am a website designer (www.immages.com) by profession. I love to cook and I love to eat! I lived in Mexico for a few years on and off and learned to cook terrific Mexican meals. I used to share recipes on the old Prodigy Food &
Wine Club. I have written my cookbook, available in softcover and in E-Book. I am currently working on a Polish E-Book. I am currently the food editor for Think Spanish! - an audio Spanish magazine. My other passions are gardening, power walking, music, traveling, collecting Polish Stoneware, genealogy, cleaning up the environment, feeding the creatures in my yard - in no particular order! My favorite thing, though, is playing with my ten grandkids!
Read more
My Latest Recipes 7
This can be used as a main course or as an appetizer...

Originates in the Yucatan Peninsula of Mexico, Utilizes achiote paste, which is made from annatto seeds....

This is like the pickled jalapeno you find in cans, but better!!...

This is a Polish recipe that my mother and grandmother used to make. It is one of my family's favorites....

I was surprised to see Corn Ice Cream in Mexico, but it is actually delicious...

During my first visit to Mexico City, my husband took me to his favorite restaurant, El Rubí. One of there delicious dishes was C...