The Cook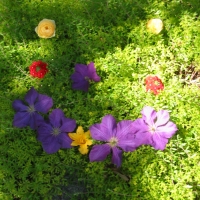 micuisine
Greensboro, NC
Taste-o-Meter
People LOVE micuisine's recipes.
About Me
I have 3 children at the "flying the coup" age and I thought I would use this site to make sure they have access to some of their favorite recipes. My 18 year old is leaving for college and wants to make sure he can cook his favo
rite dishes. (He specifically asked for the Hamburger Stroganoff recipe.)

I've spent years cooking kid-friendly dishes and really enjoy them! Now, my kids are growing up and finally beginning to eat "adult" dishes.

Two of them have been missionaries to other countries and needed to enjoy new and interesting dishes. (and, boy, have they had some interesting dishes!) We've also had Japanese Exchange students stay in our home and have enjoyed trying Japanese dishes. We have friends from Nigeria and love their "Moo Moo" dish. I'll have to get the recipe and post it. It's not the same as moo moo juice (milk), it's a salmon dish. And I'm sure I'm not spelling it correctly. ;)
Read more
My Latest Recipes 22
My friend, Marybeth, came up with this recipe when I was visiting one day. My husband and I absolutely love this soup!...

Starlight Cake from micuisine in Greensboro, NC.

This is the basic yellow cake recipe I have used for years to make cakes for my family. I think that I got it from an old Betty C...

Like these crispy. Boil the carrots for 5 minutes, dump in ice water immediately to keep them crisp....

Beef Stroganoff from micuisine in Greensboro, NC.

One of our family's favorite recipes! Serve over noodles (original), rice, or toast. Serve with a salad....

We make this up at the lake house for breakfast. It's nice to have it ready to eat for Christmas morning or those lazy Saturday m...

PawPaw would make these yummy eggs for Thanksgiving and Christmas. They are a little sweet and nothing fancy. Just the way the k...
My Groups