The Cook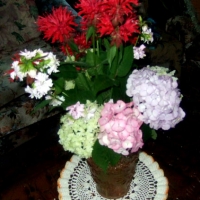 midgelet
Eastern, USA
Taste-o-Meter
People are ADDICTED to midgelet's recipes!
About Me
Happily married female: I enjoy and prepare foods deliciously different . Whether my family based recipes, my own creations or adaptations of others; I enjoy recipes from everyone and everywhere.
My history: catering, food edi
tor, restaurant reviewer, dessert baking business, teaching cooking classes, and now retired.
I believe there is no one perfect recipe for anything ( at least in my humble opinion ). It's quite evident in Group Recipes!
So I share, continue to learn and enjoy the simple pleasures especially good food, fresh ingredients and recipes made with love.

Bon Appetite, as food is one of Life's special pleasures!
Read more