The Cook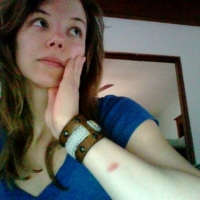 milicakozomara
Dallas, TX
Taste-o-Meter
milicakozomara's recipes haven't caught on yet
About Me
I don't think of myself as domestic but I want to be a great effortless homemaker - though, I'm starting to think that doesn't exist.
I live with my boyfriend and our cat Tweeter.
I'm not a committed vegetarian - I eat meat abo
ut once a week, however, I don't cook with meat so I'm looking for inspiration with vegetables, breads, desserts, pastas and appetizers.
I recently bought the Enchanted Broccoli Forest and highly recommend it.
Read more
My Latest Recipes 2
Fragrant and filling, I improvised this stir-fry to accompany some fried tofu in a pepper sauce. It's missing the green onions tha...

Sweet Hummus from milicakozomara in Dallas, TX.

I stumbled over this variation of traditional hummus by a happy accident. It's sweet where traditional hummus is tangy. Goes great...