The Cook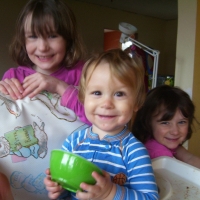 mintymommybee
Anderson, IN
Taste-o-Meter
People are ADDICTED to mintymommybee's recipes!
About Me
I am a mother of three - ages 8, 4, and 2 (:girl girl boy:). I LOVE Good Food and my kids do too, and my husband... he does, sort of, but he also loves just about anything you put before him and then there are some things he just
refuses to eat like cream cheese and yogurt and papaya and any root vegetables that are not potatoes, and he just doesn't get the same kind of thrill out of a beautiful meal as I do. And he thinks nothing of squirting ketchup all over the perfectly seasoned roast or what have you. or dumping sugar all over the brown basmati rice (what's up with that? I banned sugar from our house for a while, mostly just to keep him from ruining the rice!) He seems to be coming around though. He now prefers my cooking to (m)anythings else and I am proud of that!
Read more