The Cook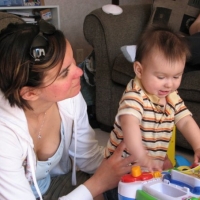 mischellp
Squamish, CA
Taste-o-Meter
mischellp's recipes haven't caught on yet
About Me
I am a true food lover, the kind that works out just so that I don't have to watch what I eat.
My day to day job, besides being a mom for my 1 year old son, is a kitchen manager at a quaint little coffee shop. We bake muffins, s
cones, cinnamon buns, loaves, cookies and so much more fresh everyday for our amazing customers.
I love coffee nearly as much as I love food.
My mom is celiac, so I am always on the look out for great tasting, gluten free recipes. I've even incorporated some of them at my coffee shop bakery! People really appreciate the option.
I am looking forward to meeting new friends and finding and sharing great recipes!

Read more