The Cook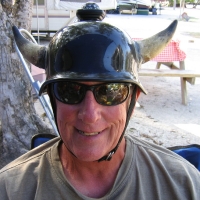 misterpeter
Southwest Harbor, ME
Taste-o-Meter
People are ADDICTED to misterpeter's recipes!
About Me
after ruling the kitchen for twenty five years my wife said "i've cooked for the last quarter cantury and i think it's your turn!" happily jumping over the counter misterpeter took up tongs and knives and began turning out gastron
omic delights unlike any she had experienced. she gave me free reign for about six months after which her expanding self told me to slow down a bit. i have since modified my approach and every meal is no longer a four course extravaganza. but for the last 12 years i have loved being the king of the pots and pans.

at the same time i began banging about in the cooking arena i started collecting cookbooks. the several hundred relics i have acquired are read from cover to cover, though i rarely make any recipes from these treasures, i am transported to a time when cooks actually made the food themselves. most of the books are pre-1950. after that time too many recipies have a can of condensed soup as an ingredient, how distasteful. if reading a recipe brings me to the "can-o-soup" ingredient the page is turned. something about that bothers this new-born cook, not sure what it is but i feel this undeniable urge. i actually know one of the campbell soup heirs.. she looks exactly like one of the "soup kids" we all recognize..... strange.

so, i was delighted to find this site. here is a gathering of my tribe. here there are like minded souls who wish a further adventure into the culinary world. no soup ingredients for me, i want creative stimulating ideas and answers to unanswered questions. is it possible to make a crispy chicken wing without frying? what is that secret ingredient in chinese garlic sauce that makes it taste so much different than mine? how does one make a really GOOD plate of barbeque? well.. stay tuned folks for answers to these questions and more.

oh yeah.. i did find a first printing of the first pillsbury bake-off cookbook in pristine condition at a library book sale... for fifty cents, really.. i did.
Read more