The Cook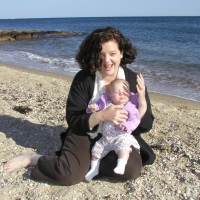 modelsmom
Worcester, MA
Taste-o-Meter
People are ADDICTED to modelsmom's recipes!
About Me
I'm 40-ish; married almost 17 years to Andy the Brit; mother of 2 daughters, aged 13 and 5. What made my oldest think she was allowed to turn 13?! I live in Worcester, Mass in a drafty 100+ year old house. I'm a copy editor (part-
time since the little one was born), and they call me the Grammar Nazi. What else? I read cookbooks like they're novels. I love to cook, but I use a lot of shortcuts these days, since we've all got so many commitments elsewhere. I love my slow cooker, and I might save it first in a fire!
Read more
My Latest Recipes 101
Balela from modelsmom in Worcester, MA.

I just tried this for the first time today and it was delicious. I bought it at Trader Joe's (because the sample was so good). I a...

This was so easy, so fast, and so delicious! It's got pasta and meatballs, so kids like it. It's full of vegetables, so all you ha...

Cowboy Pie from modelsmom in Worcester, MA.

This is the best use of leftover pot roast I have found yet! It's a pot roast shepherds pie with a slightly spicy twist. We were s...

Greek Pasta from modelsmom in Worcester, MA.

I couldn't believe how easy this was. It was on the table in 20 minutes flat, and would've been faster if I'd used the fresh vermi...

Tastes so unhealthy, but it's really not too bad, especially if you use turkey bacon. So flavorful it would be worth it. And it co...

Looking forward to trying this one. I would never have thought to add clams to spaghetti sauce....