The Cook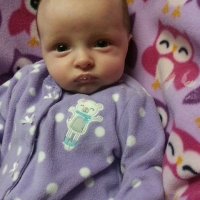 momofsixil
Davis, IL
Taste-o-Meter
People are ADDICTED to momofsixil's recipes!
About Me
My hubby and I will celebrate our 29th wedding anniversary on October 20th, 201 We have six amazing children (five girls and one boy) whose ages are 27, 25, 23, 21, 18, and 15! There's never a dull moment in our house and I would
n't have it any other way! We proudly welcomed or first grandchild, Sophia, on January 20th, 2013. Grandbaby #2 is due this October!!
My husband loves to cook, also, and is wonderful at it! We live in northern Illinois near the Wisconsin border.
I entered in that I'm an "expert" cook, but that makes me sound like I'm a food snob...haha... Let's just say I've been cooking since I was old enough to stand on a step-stool helping my mom!
I have inherited my mom's love for cooking and baking and am so thankful that my own children share that love! My favorite foods to make are desserts. I specialize in cookies, cakes, cheesecakes, and specialty desserts, but I love to make a wide variety of other foods as well.
I'm so excited to share my recipes and learn of the many recipes on this site that are waiting for me to discover! I've already "met" many cooking buddies who have the most amazing recipes in their collections. It's great to read about the many similarities that we share!
Read more