The Cook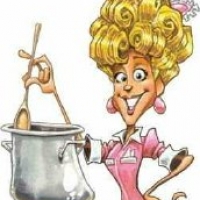 mountainmama
Heaven, WV
Taste-o-Meter
People generally enjoy mountainmama's recipes.
About Me
All My Recipes are being LOWBALLED BY Chef Elaine , Dagnabit, theoldrecluse, Candy, Sharyl and lord just to many to confuse someone about. The issue is Elaine has a mental problem and it took others and her Troops( they said it) i
ts there name..ha ha ...to lowball me and others. They are of such High Christian Morals I can't even tell you. Then you won't have to be told because wether I'm here or not they post lies and half truths. They said I do all these wonderful things even when I'm not online. So Even The Lowest Rated Recipe on here is good. The idiots are rating all my other recipes 5's on another site. They even have me as a buddy.. ha ha ha. It is amazing what they will tell someone. For months now they have been so high rating and gathering anyone they could. So as you see I'm not putting my recipes here but you are finding them and you have rated them. So Thank You Elaine and Troops for all the Fives...................ha ha ha.

This is my site and its for my family. Anyone that wants to view these recipes; please feel free. We all have every right to ask someone to keep off our sites.






Read more