The Cook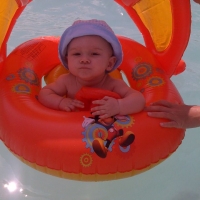 mrtnzangel8
SW, MO
Taste-o-Meter
People are ADDICTED to mrtnzangel8's recipes!
About Me
"Better to be without logic than without feeling." —Charlotte Bronte
My Latest Recipes 65
Been craving a bit of a stuffed mushroom and came across a new cheese at the store.. Of course sub your favorite mushrooms and ch...

This Summer my tomatoes have been slow to grow. Neighbor is not growing any this year and freebies from friends just weren't comin...

Alfredo Sauce from mrtnzangel8 in SW, MO.

We got this recipe from the guy that we get our seafood from. Goes well over his lobster ravioli or some crab fettucini....

I have never braised a steak before and this is the recipe from the package. I love everything in it so how can I not love it when...

Kid's and I got together to come up with our own fruity popsicle and this is our first attempt. I'm sure there are many similar an...

This recipe is from my new kitchen herb garden kit. Can't wait for Summer grilling. (And for the herbs to grow!) This will definit...