The Cook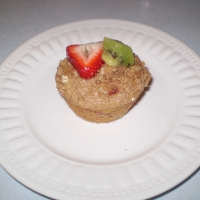 muffinmadame
NY
Taste-o-Meter
People LOVE muffinmadame's recipes.
About Me
I am a stay-at-home mom of two living in Upstate NY. I love to cook and bake just about anything (and muffins of course are one of my favorite things to create!), but being the health nut that I am, there are certain things I ste
er away from now, like meals loaded with cheese or other saturated fat-laden ingredients. My favorite thing is finding a fattening recipe (or a favorite I've had for years) and reinventing it as a much more healthy, but just as tasty, recipe! I also like to cook mostly from scratch. I don't buy frozen meals (sometimes much to my husband's chagrin when he is having a craving for Hot Pockets) but instead I cook extra-large meals and freeze smaller quantities for lunches and weeknight dinners. I also love to bake bread from scratch, and although I am newer to bread-making, I am getting better at it.
Read more
My Followers