The Cook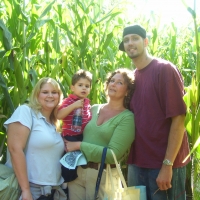 nanny
Haddam, CT
Taste-o-Meter
People LOVE nanny's recipes.
About Me
I love to cook and to bake.Enjoying family, friends and food is a blessing to me.I enjoy baking and decorating cakes.Gardening is something that I also enjoy.My tomatoes and herbs are doing great right now.I also have flower garde
ns that are a great joy.My hysopp and black peppermint make wonderful teas.I have two grown children and a two year old grandson.For my grandsons birthday I made him a blues clues cake and it was a big hit.I also have a golden named Hennessy,he is the best dog.We hike and enjoy eating together.Hennessy likes nothing more than to hang in the kitchen and sample all my new recipes.Sewing childrens clothes is also one of my hobbies and hope to open a website with my line soon.I am very excited about being a part of such a wonderful group.Hope to enjoy many recipes and share some of my family favorites.
Read more
My Latest Recipes 10
This recipe came from Todd Wilburs top secret recipes.Ooooey and gooooey.The best recipe I have ever made.My two nephews Ethan and...

for those like my daughter who can not have dairy.great over hot ginger bread but good on anything...

These are wonderfully easy and a delight to eat...

This is another farmstand recipe and easy and delish...

This is a family fav.It is rich and flavorful and leaves them wanting more.Serve with mashed potatoes,rice or egg noodles....

These are my version of lemon bars.It is couple of recipes changed to please my daughter who craves these....