The Cook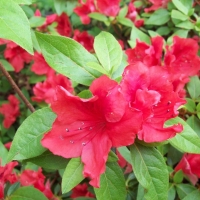 nccook22
Charlotte, NC
Taste-o-Meter
People generally enjoy nccook22's recipes.
About Me
I have been cooking for myself and friends for about 14 years. Love all types of food and am especially fond of American, Italian, Cajun, & Puerto Rican. I also bake at least three times a month and love making cheesecakes.
My Latest Recipes 23
Tangy (not spicy) bone-in chicken. Sauce suitable for many meats. Simple to make and keeps well in fridge....

Chewy chocolate fudge brownies with a rich cream cheese swirl throughout....

Patty Cake from NCcook22 in Charlotte, NC.

An easy dessert with subtle cream cheese flavor. Not sweet at all, even with 3 3/4 cups confectioners sugar in the recipe. Next ...

If you like bananas and custard, this pie combines both. It can be made ahead and kept in the fridge. Recipe is from Betty Crock...

Fried chicken that's crisp on the outside and moist on the inside. The secret's in the prep of the chicken pieces before frying....

Great chicken make-ahead recipe. Chicken cooks in a sweet & sour-type sauce. From the recipe-sharing web site www.mixingbowl....