The Cook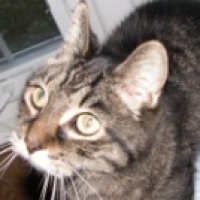 nermalsmom
Dearborn, MI
Taste-o-Meter
People LOVE nermalsmom's recipes.
About Me
I have been a vegetarian (no chicken or fish) for over 25 years, so I guess I am really dating myself. I could never be a vegan, though, cause I like my yogurt and cheese too much. I cook for myself and my husband who is not a v
egetarian--I will prepare meat for him as long as it is not too gross or slimy, LOL. We have four cats and 3 of the 4 will eat human food, as well, so we often end up sharing with them. Chocolate is by far the best invention ever. Love to use tofu as it can be used in so many ethnic foods such as Chinese, Indian, Italian, and Mexican. I often make tofu tacos which my formerly meat and potatoes hubby absolutely loves.
Read more